~♥~Om mig~♥~
 Välkommen hem till mig i Ronneby, och titta gärna in på mina sidor
för att träffa mina vackra och vänliga hundar! 
Welcome to my home in Ronneby, Sweden, and please look at my pages
to meet my beautiful and friendly dogs!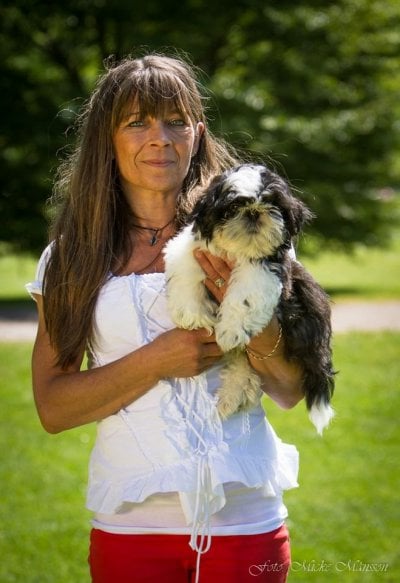 Jag är en tjej på 46 år som blivit helt förälskad i Shih Tzu. Min första hund (1994) var en  Cavalier King Charles Spaniel som hette Lyalands Jum Jum. När han vandrade över regnbågsbron blev valet av hund två Jämthundar. Sommaren 2007 kom jag för första gången i kontakt med Shih Tzu och jag föll verkligen för denna underbara personlighet som Shih Tzu´n har.
I´m a girl of 45 years who have been totally in love with the Shih Tzu.
My first dog (1994) was a Cavalier King Charles Spaniel named Lyalands Jum Jum. As he walked across the Rainbow Bridge became the choice of two dogs the Swedish "Jämthund". The summer of 2007 I came for the first time in contact with the Shih Tzu and I really fell in love for this wonderful personality that Shih Tzu'n have.
This wonderful painting is painted by Carl Christensson
http://www.cabochon.se/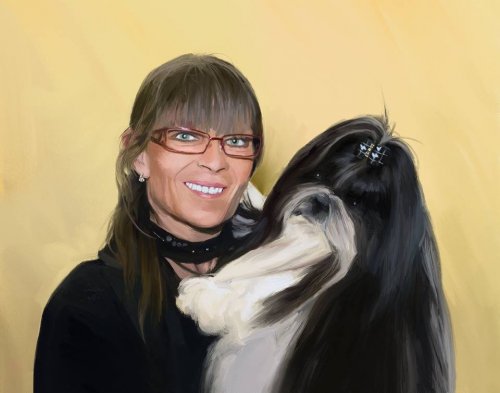 Min första Shih Tzu "Chilli", Tibets Pride's Every Inch A Lady köpte jag våren 2008. 
Hon är min trogna vän, en mycket förstående och intelligent dam.
My first Shih Tzu "Chilli", Tibet's Pride's Every Inch A Lady, I bought in spring 2008.
She is my faithful friend, a very understanding and intelligent lady.
Hund nummer två, även det en tik, "Molly", Tibets Pride's Desperate Housewife kom till mig hösten 2008. 
En riktig liten docka, alltid pigg, glad och älskar mys & kel.  
Dog number two, also a bitch, "Molly", Tibet's Pride's Desperate Housewife came to me in autumn 2008.
A real little doll, always alert, happy and loves snuggle and cuddle.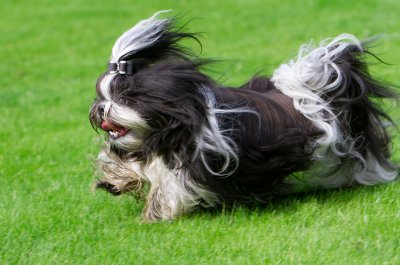 Min avelshane "Waldemar", Tibets Pride's Get Over It,  följde med mig hem vintern 2010.
Waldemar är "mannen i mitt liv"!  Alltid lugn och stabil och med ett otroligt gott temperament.
Min själsfrände...the one and only...
My stud "Waldemar," Tibet's Pride's Get Over It, followed me home winter 2010.
Waldemar is "the man of my life"! Always calm and stable, with an incredibly good temperament.
My soulmate...the one and only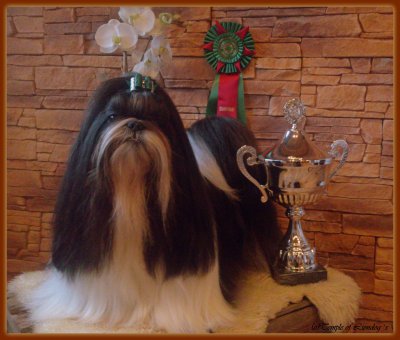 Min tredje tik Genna, Dilemma So Far Away kom till kenneln i maj 2014. Genna är en glad och lekfull tjej 
My third bitch Genna, Dilemma So Far Away came to the kennel in May 2014. Genna is a happy and playful girl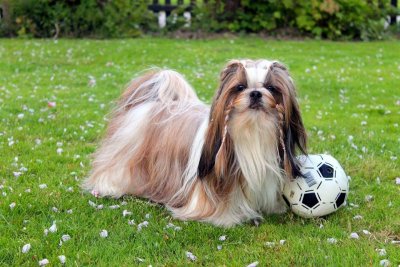 Jag har ett registrerat kennelnamn (SKK/FCI) sedan 2009 och har uppfödning i liten skala. Min första kull fick jag våren 2011 då jag parade Chilli, Tibets Pride's Every Inch A Lady med Waldemar, Tibets Pride's Get Over It. Denna gången blev det bara en liten tik.
I have a registered kennel name (SKK/FCI) since 2009 and have been breeding on a small scale. My first batch I got the spring of 2011 when I mate Chilli, Tibet's Pride's Every Inch A Lady with Waldemar, Tibet's Pride's Get Over It. This time it was just a little bitch.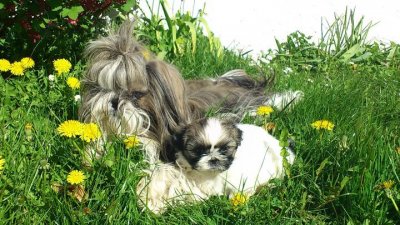 Valpkull nummer två föddes i mars 2012 . Stolta föräldrar till denna kull på 1 tik och 4 hanar är Molly, Tibets Pride's Desperate Housewife & Azzar, Tibets Pride's Join the Joyride.
Litter number two was born in March 2012. Proud parents of this litter of 1 female and 4 males is Molly, Tibet's Pride's Desperate Housewife & Azzar, Tibet's Pride's Join the Joyride.

Shih Tzu är en underbar liten hundras som ger så otroligt mycket glädje!
En gång Shih Tzu, alltid Shih Tzu & en hund blir lätt två...
The Shih Tzu is a wonderful little breed that gives so much joy!
Once the Shih Tzu, always Shih Tzu & one dog easily becomes two ...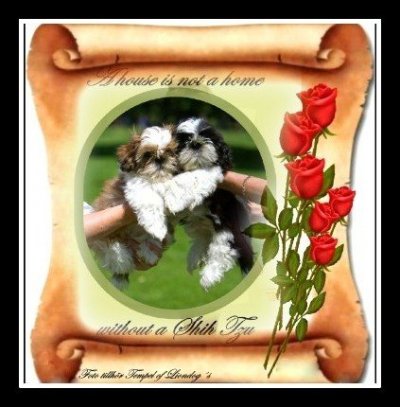 Min uppfödning/My breeding                      

Mina hundar bor inne hos mig, de är mycket sociala och vana vid de flesta förekommande ljud i ett hem.
För mig är temperament och en frisk och sund hund mycket viktigt vid val av avelshund. Samtidigt ska jag försöka prioritera vackra färger och rörelser som är rastypiska. 
Shih Tzu är en utpräglad sällskapshund. Rasen är sund och frisk med mycket få hälsoproblem. Uppnår ofta en hög ålder. Den är en liten, robust hund med riklig päls. Mankhöjd får inte överstiga 27 cm. Vikt är ca 4,5-8 kg. Alla färger är tillåtna. Rasen är glad, vänlig, positiv och livlig hund som kräver regelbunden, ganska omfattande pälsvård.
Shih Tzu är en bra och anpassningsbar familjehund, som är lätt att ha, även tillsammans med andra hundar.
Under de 10 veckorna som valpen bor hos mig lägger jag ner mycket tid på:
kloklippning - minst 1 gång i veckan från det att valpen är ca 2 veckor gammal
kamning/borstning - varje dag från ca 2 veckors ålder för att vänja valparna vid just den hanteringen
bada & fönas - 1 gång i veckan från ca 5 veckors ålder
åka bil
andra hundar
Barn - viktigt att hunden i tidig ålder lär känna och förstå barn. 
leka med människor
utforska miljöer på egen hand utan mamma och resten av flocken                                                                                                               .
När du hämtar din valp är den:
Registrerad i SKK
Chipmärkt
Veterinärbesiktigad & vaccinerad
Avmaskad 3 gånger med Banminth
Ingen valp säljs innan 8 veckors ålder
Att tinga en valp:
Det är inte lätt att välja ut den rätta valpen i en valpkull. Ofta går man efter utseende, eller tar just den som först kommer fram och kryper upp i ens knä när man slår sig ner där i mitten av valpkullen. Jag som uppfödare lever tillsammans med valparna 24 timmar om dygnet och vid ca 4-5 veckors ålder har alla valparna utvecklat sin egen mentalitet. Man kan då ganska lätt se om en valp passar för utställning, i en småbarnsfamilj, tonårsfamilj, en soffliggare och myspysare mm. Varje familj brukar redan vid första besöket uttrycka sina önskemål om vad de önskar göra med sin hund. Familjens önskemål brukar kunna ge mig en bra fingrvisning om vilken valp som passar i vilken familj. Jag vill med andra ord gärna ha ett litet finger med i spelet när du ska välja ut just din och din familjs valp för att ni ska få den valp som passar era önskemål och behov allra bäst.
Jag ser gärna att matte/husse har utställningsintresse, men det viktigaste är att de hamnar hos familjer som älskar sin hund och att den får ett aktivt liv. Så även du som bara söker en livskamrat är hjärtligt väkommen att höra av dig!
Jag försöker hjälpa till så mycket jag kan, både till vardags och i utställningsringen.
Kontakt mellan uppfödare/valpköpare ingår i valpköpet!
Ingen valp är såld innan ett personligt möte mellan mig och eventuell valpköpare har skett och jag tror mig hittat "rätt hem för min valp. Jag förbehåller mig rätten att själv välja vilken/vilka jag vill sälja min hund till utan förklaring/ursäkt.  
Skötsel/pälsvård av Shih Tzu
En vacker och lång päls kräver ingen utbildning, däremot regelbundenhet och en del av din tid. Grunden av pälsvård är väldigt enkel, regelbundenhet och noggrann genomgång! Så det första man ska göra är att vänja valpen vid regelbunden pälsvård, vilket är en mycket god investering. Den första "tov-fasen" kommer vid ca 8-10 månaders ålder, och för en tikvalp, senast efter första löpet. Valpen börjar byta från valppäls till vuxenpäls, underullen lossnar och bildar tovor. Den jobbiga fasen kan fortsätta ända upp till ca 2 års ålder, beroende på hur mycket päls och vilken kvalitet just din shih tzu har. Efter att ha överlevt de två första åren är pälsvården riktigt enkel! 
När du borstar behöver du "fukta" pälsen, tex med balsamspray eller borstspray, som gör tovorna lättare att reda ut, tar bort det statiska och förhindrar att hårstråna bryts av. Borsta aldrig i torr päls!
Hur ofta hunden ska badas beror på om du bor på landet eller i stan, dvs hur fort den blir smutsig. Att tvätta pälsen är också viktigt om du har bestämt dig för att ställa ut din shih tzu. I så fall ska man bada minst en gång i veckan, och borstning ska inte ske utan bad. En ren päls kommer att samla på sig mindre tovor och bli mindre sliten.
Man ska börja träna på att sätta upp tofsar så snart håret är nog långt för att fästas i en tofs. En eller två tofsar räcker för en valp, men när håret har blivit långt behövs mer tofsar för att hålla håret ur ögonen.
Valpen bör borstas varje dag för att vänja sig. När hunden växer så varken behöver du eller ska du inte borsta dagligen, då det i stället sliter på pälsen. Den dagliga skötseln blir då att sätta en ny tofs samt kolla ögon och öron. Det viktigaste är att hunden inte har hår hängande framför ögonen. Det kan också bildas mer "slem" och ögonen kan bli röda om det är hår i dem. Torka bort överflödigt "ögonslem" med en fuktig bomullpads. Man kan i alla fall titta igenom pälsen efter tovor varje dag. En ung hund som byter päls, kan behöva borstas upp till varje dag för att inte tovor ska fastna. Medan en vuxen hund klarar sig med en genomgång i veckan.
En gång i veckan bör du gå igenom hela hunden. Klippa klor, kolla trampdynor, rycka öronhår och borsta tänderna. 
Den lilla valpen får all motion den behöver från att leka och busa i trädgården. Gå aldrig ut på långpromenad med en liten valp. Första månaden räcker trädgården som sedan succesivt utökas till små promenader (några hundra meter, inte längre än en ½ km). Om du ska ta med valpen, kan den kanske åka med barnen i barnvagnen eller få bli buren. En vuxen shih-tzu behöver regelbundna promenader och då kan man, med glädje för hunden, gå många kilometer. 
Va rädd om din lilla valp och överbelasta den inte med långa promenader i för tidig ålder. Det kan leda till problem i kropp och leder!! Tids nog får du dom härliga promenaderna med din älskade hund!
My dogs live inside with me, they are very social and used to the most common sound in a home.
For me, temperament and a fit and healthy dog is very important when choosing a stud dog . Meanwhile, I'll try to prioritize the beautiful colors and movements that are breed typical .
The Shih Tzu is a typical pet. The breed is sound and healthy with very few health problems. Often reaches a great age. It is a small, sturdy dog ​​with abundant coat. Height may not exceed 27 cm. Weight is about 4.5-8 kg. All colors are allowed. The breed is cheerful, friendly, positive and alert dog that requires regular, fairly extensive grooming.
The Shih Tzu is a good and adaptable family dog who is easy to have, even with other dogs.
During the 10 weeks the puppy is staying with me, I spend a lot of time on :
nail clipping - at least 1 time a week from the time the puppy is about 2 weeks old
combing / brushing - every day from about 2 weeks of age to accustom puppies at that particular management
bath & blowing - 1 time a week from about 5 weeks of age
travel by car
other dogs
Children - important to the dog at an early age to know and understand children.
play with people
explore environments on their own without mom and the rest of the pack.
When you pick up your puppy it is:
Registered in SKK 
chip Marked
Veterinary Inspected & vaccinated
Wormed 3 times with Banminth
No puppy is sold before 8 weeks of age

To reserve a puppy :
It is not easy to select the right puppy in a litter. Often you go by looks, or just take the first dog to come up and crawl up in your lap when you sit down there in the middle of the litter. I like breeders live with the puppies 24 hours a day and at about 4-5 weeks of age , all pups developed its own mentality. It is then quite easy to see if a puppy suitable for exhibition , in a family with children , teens, family, idlers and snuggledog etc. Each family usually on the first call to express their wishes about what they want to do with their dog. The family's wishes are usually able to give me a good hint about the puppy that fits in the family. I want, in other words to have some small hand in the game when you select just your and your family's puppy for you to get the puppy to suit your desires and needs best.
I would like to see mum / dad has show interest, but most important is that they end up with families that love their dog and that it has an active and lovely life. So even you are just looking for a life partner are cordially Welcome to hear from you!
I try to help as much as I can, both in everyday life and in the show ring.
Contact between breeders / puppy buyers included in the puppy purchase!
No puppy is sold before a personal meeting between me and the possible buyers have been and I think I found the "right home for my puppy. I reserve the right to choose what / who I want to sell my dog without explanation / excuse.
Care / grooming Shih Tzu
A beautiful and long coat requires no training, however, regularity and some of your time. The basis of grooming is very simple, regularity and thorough review! So the first thing to do is to get your puppy at regular grooming, which is a very good investment. The first phase comes in at around 8-10 months of age, and for a female, later after the first rennet. The puppy begins to change from puppy coat to adult coat, undercoat loosens and form tangles. The hard phase can continue right up to about 2 years of age, depending on how much fur and the quality of your particular shih tzu. After having survived the first two years is grooming really easy !
When you brush, you need to spray the coat, eg with conditioner spray or brush spray, which makes tangles easier to sort out, removes the static and prevents hair breakage. Never brush in the dry coat!
How often the dog should be bathed depends on whether you live in the country or in town, that is how fast it gets dirty. To wash coat is also important if you have decided to set out your shih tzu. If so, you should bathe at least once a week, and brushing should not occur without bathing. A clean coat will accumulate less tangles and become less frayed.
You should start training on putting up tassels as soon as the hair is long enough to be attached to a tassel. One or two tassels enough for a puppy, but when the hair has been long needed more tassels to keep hair out of his eyes.
The puppy should be brushed every day to get used to. When the dog grows so neither do you or should you not brush daily, then it instead wears the coat. The daily management is then to set a new tassel and check eyes and ears. The most important thing is that the dog does not have hair hanging in front of your eyes. It can also be formed more " slime " and the eyes may become red if there is hair in them. Wipe off excess " eye mucus " with a wet cottonpads . You can at least look through the coat for the tangles every day. A young dog is moulting, may need to be brushed up to every day to not tangles to get caught. While an adult dog cope with a review of the week.
Once a week you should go through the whole dog. Trimming claws, check pads, snatching ear hair and brush your teeth.
The little puppy gets all the exercise it needs from to run around and play in the garden. Never go out on a long walk with a little puppy. First month is enough garden which then gradually expanded to small walks (a few hundred meters , no longer than a ½ km). If you are going to take the puppie, it may perhaps go with the kids in the stroller or get back cage. An adult shih tzu need regular walks and then one can, with the delight of the dog, walk many kilometers.
Take care of your little puppy and overwhelm it from long walks in the early age. It can lead to problems in the body and leads! Soon enough, you get the lovely walks with your beloved dog!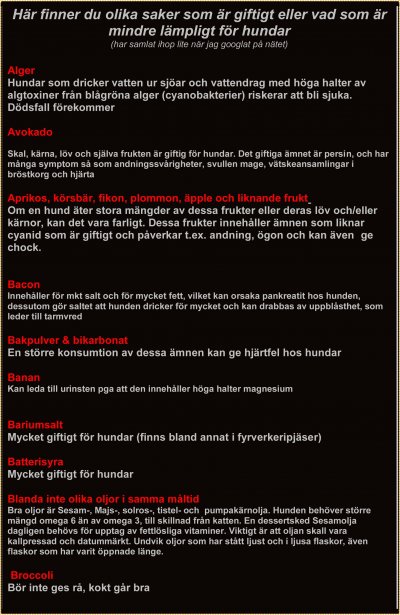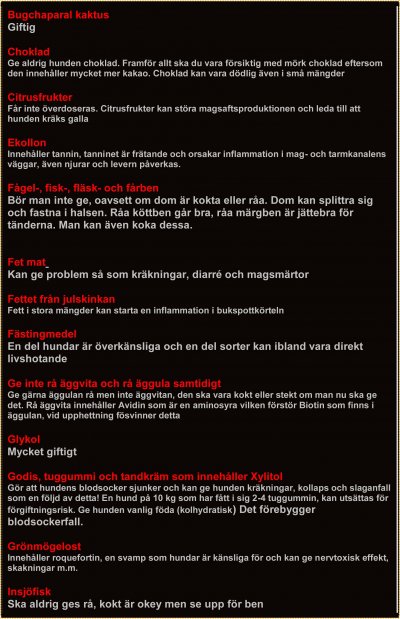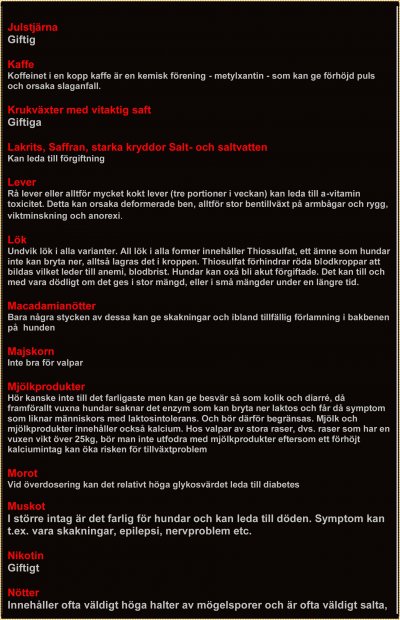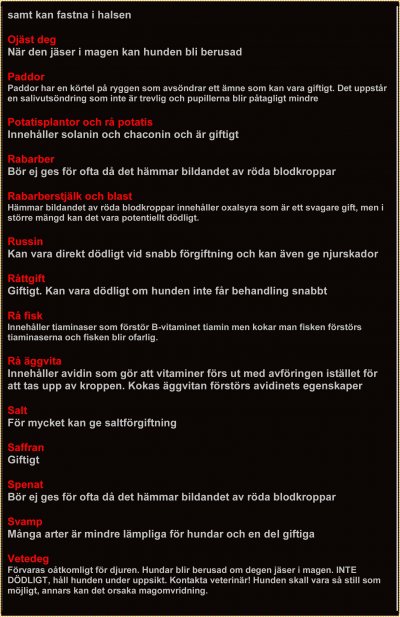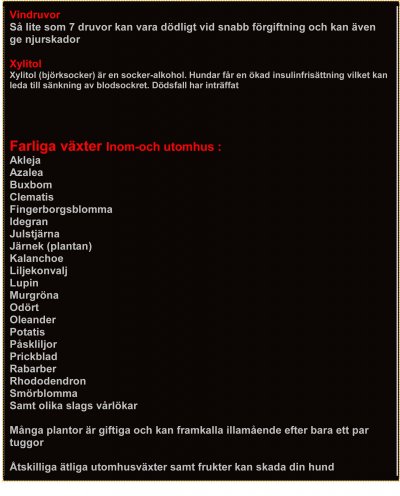 Ta en titt på min "valpsida" där finns alltid valpnyheter uppdaterade.
Take a look at my "puppy page" there's always puppy news updated.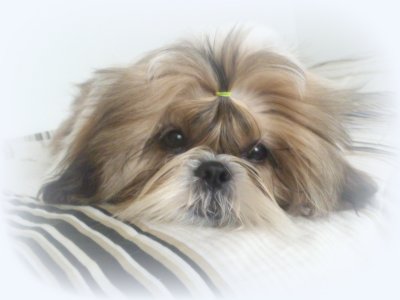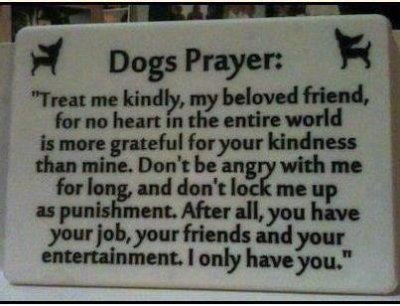 Temple of Liondog's
Anette Fogelberg
Lindahlsvägen 19
372 32  RONNEBY
SWEDEN
                                                    Telephone +46733-54 18 02
          https://www.facebook.com/templeofliondogs